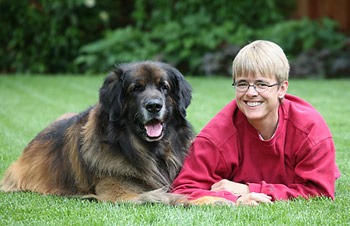 The LCA-Leonberger Kennel "ex Horto Leonis" (latin for "from the Garden of Lions"), was founded by Geeske Joel, a native of Germany.
To me, there is no better breed of dogs out there. The Leonberger will always be part of my life, even without much club involvement or breeding ambitions.

Growing up in Germany, my favorite breeds have been Newfoundlands, Irish Wolfshounds, and Leonbergers. Sometime in 1994 I became aware that there are indeed Leonbergers in the US when two puppies appeared in my neighborhood. I joined the leolist, got in contact with local breeders, joined the LCA, became a nanny to a great Leonberger by the name of Teddy and finally was able to get my first very own "wittle weo". After finishing my Ph.D. in biology I decided to concentrate primarily on dogs, including learning more about population genetics, population breeding techniques, canine diseases, teaching puppy classes, obedience training, and breeding. I spent a lot of time researching the Leonberger breed, its history and standard. In addition I participated in several international judges seminars in Europe and took first steps to become a FCI Breed Judge in Switzerland.
I served as member on the LCA Health, Research and Education Committee, the Breeding Committee and the Board of Directors. In 2003 I received the LCA's Leo Award for my work on Leonberger health issues, and in 2007 I received the Heinrich Essig Award for my work for the Leonberger breed.
After 10 very active years in the LCA I decided to step back and regroup. I did not support the decision of the LCA to apply (and get) parent club status with the AKC. To me, the core values of the LCA and most of its members are being compromised to an unacceptable degree because the AKC prohibits the enforcement of the breeding and health standards that are essential to the protection of the breed. As a result, I lost my deep desire to be involved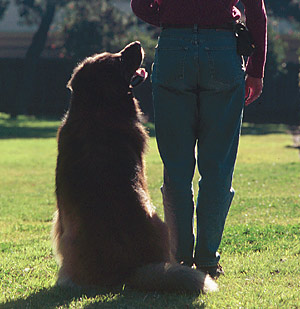 in the club and the breed to the degree I was before. I also decided not to pursue breeding myself anymore.
There is no question that I am loyal to the Leonberger breed, there always will be Leonbergers in my life, and I still follow the Leonberger World. It just is going to be from afar with a Leo at my side, not from up close and personal, not from within the core of the club anymore.