Our Dogs
When I first got Yoshka I only had a vague idea of how much I would get involved in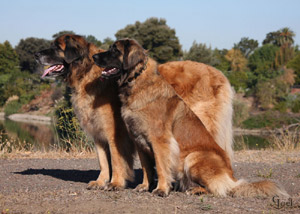 the Leonberger world. I was going to keep him intact when he turned out to be breedable but at that point I had no clear vision of my career as a breeder. When the opportunity presented itself to get the breeding rights to his sister, I spent considerable time thinking about breeding in general. I knew that being lucky enough to get a puppy that would turn out to be breedable and should be bred does not happen all that often. I decided to increase the chances of having breedable dogs by co-owning them or retaining the breeding rights. This way, if the dog is not breedable, he/she does not need to be rehomed or fills up a spot for a breeding dog in the breeder's home.
Co-owning dogs or having breeding rights to dogs, can be perfect or a catastrophe. Choose your partners well!
Why would anybody co-own a Leonberger with me? What are the advantages for the owner? Because of my connection to Europe, I was able to research breeders and breedings and physically transport puppies from Europe to the US. In addition to time spent and the connections established, I usually covered most of the cost of getting the puppy in exchange for the breeding rights. I would only recommend such an arrangement if you totally trust the breeder or owner. I had very good relations with my co-owned dog owners and am glad I took that route. This way I feel like I truly am a member of a beautiful pack of Leonbergers.